APPROX. DURATION: 4 ½ Hours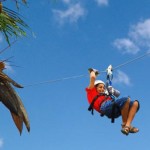 ACTIVITY TYPE: Adventure Tour
ACTIVITY LEVEL: Medium
RESTRICTIONS: Minimum Age: 10 years. Maximum Age: 75 years
MINIMUM WEIGHT: 60 lbs
MAXIMUM WEIGHT: 275 lbs (Equipment maximum size is 48″ waist and 26″ thighs)
Your Tour Includes:
Visit the first of the Dominican Republic's  Zip-Line Tour, constructed by one of the most experienced Costa Rica's Canopy Tour builder.  The exhilarating adventure takes you flying across the magnificent Anamuya pond.  Your naturalist guides will show you the way, helping you make the most of the adventure and unlocking the secrets of the Taino Anamuya Mountains.
You will be transferred to the Welcome Center, where a safety briefing will be conducted.  From there, you will walk along one of the property's roads and garden trails for about 5 minutes, until reaching the first platform, and be ready to face the challenge of "flying" from one platform to another.  You will be safely attached with climbing gear to the cables with the longest one being 250 meters (820 feet) long!
 

Your tour consists of 11 platforms and 10 Zip Lines stretched across the length of the mountain range throughout 1 mile.  Our Zip Line Tour was built with steel cables, traversing system on a steel pulley with a manual breaking system only when needed. Most cables are calibrated with its necessary speed to fly and enjoy.  So just let yourself Zip from platform to platform and swing through the air with a privileged bird's eye view of the lush, tropical ancient Taino Mountain.
At the end of the tour, fresh fruits will be served and you will have adequate time to purchase a special souvenir of this unique adventure.
Instructors, soft drinks and fruits are included in the Tour. Comfortable clothing, camera, sunscreen, insect repellent, shoes or sneakers and cash for souvenirs are recommended. 

 Price: Adults: US$89 p/p. Children: US$60 p/p.