DOLPHIN ISLAND PARK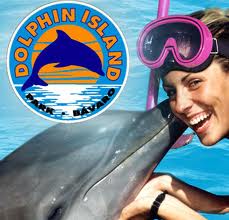 You will be picked up in your hotel lobby by one of Dolphin Island Park's (DIP's) tropical island buses playing local traditional music (see bus schedule below for pick-up times).  When you arrive at the Beach area you are greeted by Dolphin Island Park's friendly island hosts.  Your hosts will introduce you to the swimming with the dolphins program by showing you an informational video highlighting your soon-to-be encounters and an introduction of the rules to be followed once on the floating island.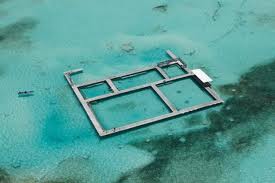 Each group is then wisked away by one of the DIP's tropical island boats where you are dropped off on their floating island and are prepared to then encounter resident Dolphins Sam, Sacha, Tony, Mary, Martha and Vicky.  These friendly water mammals will be your entertainment for the next 25 minutes while you play and swim with the dolphins and learn about them from the professional trainers.
After your encounter with the dolphins, you are then invited to experience the next acquarium which is home to reef sharks and manta rays, where goggles will be provided in order to view them better.  We encourage you to bring your underwater camera to capture memories as you, family and friends interact with these amazing sea creatures.
An additional program is available to all Dolphin Island Park guests where you can swim with their Sea Lions–Covi, Sara and Maya.
Forgot your underwater camera?  While on our floating island you will feel like a celebrity as one of DIP's papparazzi photographers and videographers will capture your memories for you and will have photos and DVD's available for purchase at then end of your experience.   As you return to the beach area, you may also introduce yourself to traditional Dominican beverages like Mamajuana, Cuba Libre, Santo Libre and of course other libations, snacks and drinks are also available for purchase.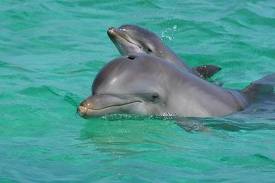 Pricing:  $155 USD per person (adult & children) / Companion:  $45.00 USD per person
Additional Sea Lion Encounter:  $80 USD per person (when you purchase the Dolphin Island Park)
HOTEL DEPARTURES
DEPART 1
DEPART 2
DEPART 3
Hotel
7:00 AM
11:00 AM
2:00 PM
Barcelo Punta Cana (Premium)
7:15 AM
12:25 PM
2:25 PM
Grand Paradise
7:20 AM
12:30 PM
2:30 PM
Majestic
7:25 AM
12:35 PM
2:35 PM
Bahia Principe
7:30 AM
12:40 PM
2:40 PM
Riu Bambu
7:40 AM
12:50 PM
2:50 PM
Riu Meeting point
7:40 AM
12:50 PM
2:50 PM
Iberostar Bavaro
7:50 AM
1:00 PM
01:00:PM
Iberostar Dominicana
7:55 AM
1:05 PM
3:05 PM
Iberostar Punta Cana
7:55 AM
1:05 PM
3:05 PM
Villas Bavaro
08:20AM
01:20PM
03:20PM
Barcleo Complex (meeting point)
08:30AM
01:30PM
03:30PM
Arrival to   Beach
08:35AM
01:35PM
03:35PM
HOTEL   DEPARTURES
DEPART 1
DEPART 2
DEPART 3
Hotel
7:00 AM
11:00 a.m.
2:00 PM
VIK Arena
7:15 AM
12:20 PM
2:20 PM
Punta Cana Princess
7:15 AM
12:20 PM
2:20 PM
Ocean Blue
7:20 AM
12:25 PM
2:25 PM
Caribe Club Princess
7:25 AM
12:30 PM
2:30 PM
Paradisus Punta Cana
7:30 AM
12:35 PM
2:35 PM
Bavaro Princess
7:35 AM
12:40 PM
2:40 PM
Occidental Flamenco
7:40 AM
12:45 PM
2:45 PM
Palladium Palace
7:45 AM
12:50 PM
2:50 PM
Palladium Bavaro (meeting point)
7:45 AM
12:50 PM
2:55 PM
Fiesta Palladium
7:45 AM
12:50 PM
3:00 PM
Carabela
7:55 AM
12:55 PM
3:05 PM
Barcelo Dominican Cana Beach
8:00 AM
1:00 PM
3:10 PM
Barcelo Dominican Beach
8:00 AM
1:00 PM
3:10 PM
NOW Larimar
8:10 AM
1:10 PM
3:20 PM
Melia Tropical
8:15 AM
1:15 PM
3:25 PM
Melia Caribe
08:15:AM
1:15 PM
3:25 PM
Paradisus Palma Real
8:20 AM
1:20 PM
3:30 PM
Arrival to   Beach
8:35AM
1:35 PM
3:45 PM
HOTEL   DEPARTURES
DEPART 1
DEPART 2
Hotel
11:45 AM
2:00 PM
Catalonia
12:40 PM
2:45 PM
Be Live
12:45 PM
2:50 PM
Palma Beach Dreams
12:50 PM
2:55 PM
Natura Park
12:55 PM
3:00 PM
Arrival to Beach
1:30 PM
3:30 PM
Only on Tuesday, Thursday, Sunday
HOTEL DEPARTURES
DEPART 1
Hotel
11:30 AM
Secrets Excellence
11:10 AM
Sirenis
11:20 AM
Dreams Punta Cana
11:30 AM
Nouvelle Frontieres
11:35 AM
Arrival to Beach
12:15PM